Liquid Assets ( 2007 )
  1 Another Spark  6.20
  2 Subumbrella  3.30
  3 Up Streaming  5.16
  4 Liquid Assets  4.24
  5 Delta Waves  8.47
  6 Ungrounded Certainties  6.21
  7 No Words Necessary  5.27
  8 Open Source  6.11
  9 Recurrent  5.45
10 Deafmute  3.27
11 Shivalingam  7.43
Note: Colin Edwin: Fretted/Fretless Basses, Double Bass, Guimbri, Programming.
Geoff Leigh: Flutes, Soprano Saxophone, Jaws Harp, Voice, Noseflute.
Guests: Rick Edwards - Various Percussion, Handsonic.
Rajan Spolia - Acoustic Guitars. (Tracks 5,7,11)
Ian Dixon - Trumpet. (Tracks 3,7,9,10)
Cover Image and sculpture - Lucianne Lassalle
Design by Carl Glover for Aleph
---
Grouned ( Ep )
1 First Shout
2 Grounded
3 Hidden Shadows
4 The Unconscious Summons
5 Scratching
Note: Questo Ep è stato realizzato con il contributo di ospiti quali Ian Dixon, Rick Edwards alle percussioni e per la prima volta con gli Ex-Wise Heads il chitarrista Neil Soutar che ha aggiunto delicate melodie alla title track.
La foto della copertina è una scultura di Lucianne Lassalle ed il designed by Carl Glover
---
Holding up the Sky ( 2006 )
 1 Snowdrift
 2 Fumes
 3 Harmonic Chain
 4 Winter of Discontent
 5 Mythography
 6 Royal Flush
 7 Accidental Design
 8 Cape Spartel
 9 Termite Parade*
10 Gene Pool
Note: Colin Edwin: Electric Basses, Double Bass, Guimbri, Programming.
Geoff Leigh: Flutes, Soprano Saxophone.
Guests: Rick Edwards: Congas, various percussion.(tracks 2,4,7,8,9)
Ian Dixon: Trumpet. (tracks 4,6)
Recorded and mixed by Colin Edwin at Nightspace Studio during 2006.
All compositions (Edwin/Leigh) except * (Edwin)
Mastered by Paul Mex at Mex One Recordings.
---
Time and Emotion Study ( 2003 )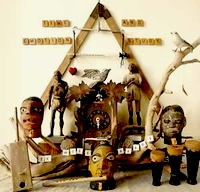 1 Scotched Up 4.01
  2 Knight to Castle in the Air 4.41
  3 Hydrahead 4.43
  4 Bubbles and Baubles 3.53
  5 Don't Walk in my Baboushes 4.51
  6 Slender Threads 6.08
  7 Billy Wood Blues 7.10
  8 Diminishing Returns 4.20
  9 Broken at Work... 2.51
10 ..Mended at Play 4.55
Note: Geoff Leigh - soprano sax, flutes, zither, keyboards, melodica, shenai, voice. Colin Edwin - electric fretless/fretted/acoustic/double basses, guimbri.
Vincent Salzfaas - berimbow,all percussion : bougarabous, brekete, djundjun, djembe, darabouka, bells, shakers, woodblocks etc.
Special Guest Peter Knight - violin and electric viola, (tracks
2,7,8,9,10).All the basic tracks were recorded live onto ADAT
All compositions Ex-Wise-Heads (Edwin/Leigh/Salzfaas)
An Ex-Wise-Heads production for Hard World.
Mixed and mastered by Simon Southgate (Mr Creative Engineering) at Swine Studios, Bexhill.Except "Slender Threads", mixed by Steven Wilson.
---
No Gray Matter ( 2000 )
1 Lost Tango
2 Afro Hoe Down
3 Song For Jalil
4 Spirit Dance
5 Departure Lounge
6 All Thumbs Up
7 Cushion
Note: Questo album è la registrazione di un concerto.
---
Every Thing is Heare ( 1998 )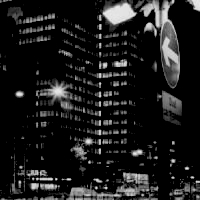 1 Alpha Waves
2 Departure Lounge
3 Dreams of China
4 Bubbles
5 Harmony Monday
6 Shell's Bells
7 Sassy
8 Cushion
9 Dubbinnit
Note: Geoff Leigh: flutes,zither,voice,soprano saxophone,bells,shakers,
kalimba,Keyboards.
Colin Edwin: fretless bass,saz,guimbri.
Julian Franks: tablas,ghatam,djembe,darabuka.
All Tracks (Edwin/Franks/Leigh) (c) copyright control
Recorded @ Haywards Heath May - June1998
Mixed/Mastered by Geoff Leigh @ Pavillion Studios Brighton with the assitance
of Paul Mex.
---