Eclipsed
La rivista tedesca, tratta buona parte della scena rock mondiale, principalmente concentrata sui Pink Floyd, ma senza mai trascurare band come i Porcupine Tree.
---
2010
Sulla rivista tedesca Eclipsed Magazine i Porcupine Tree, sono in testa alle classifiche del 2009. L'album The Incident č stato votato miglior album del 2009, e la band ha raggiunto la prima posizione per il miglior concerto dal vivo dell'anno, mentre il brano Time Flies ha raggiunto la posizione N°5 nella categoria miglior canzone del 2009. Invece l'album di Steven Wilson Insurgentes č al N° 25 nella categoria migliori album, mentre il remix di Steven sull'album In The Court of the Crimson King dei King Crimson, č al N° 9 nella categoria migliori ristampe dell'anno.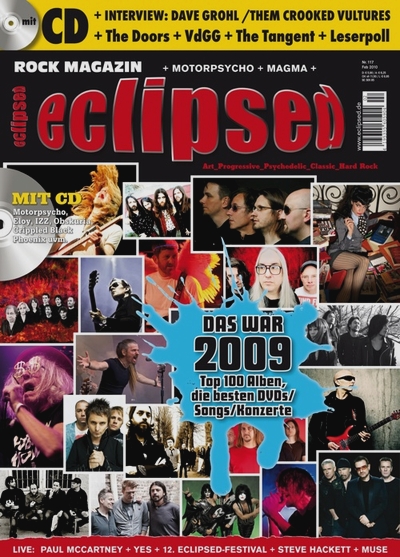 ---
2009
Sono i Porcupine Tree gli artisti presenti nell'edizione di ottobre della rivista rock tedesca, Eclipsed. L'album The Incident si guadagna l'ambito posto nel mensile, ricevendo nove stelle su dieci, ipotizzandolo come l'album dell'anno! La rivista contiene anche una lunga intervista a Steven Wilson sotto il titolo "La rock band pių importante di oggi: Porcupine Tree." Il nostri ringrazimenti a Jan Hecker-Stampehl.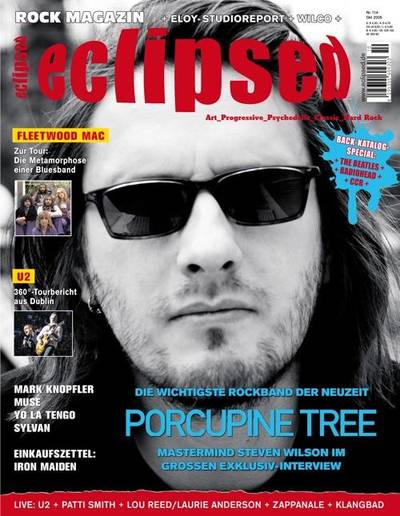 ---
2002
In questo numero 36, Febbraio 2002, con allegato il CD contenente un brano dei Porcupine Tree.
---