This last work by Gazpacho, entitled Demon, is really an interesting release. The band, now at their eighth studio album, has musically matured so much that they've been able to afford an album somewhat extravagant. Consisting of four songs, it is defined by the band itself the most complicated and strange album they've ever done. The four songs represent four parts of a story that ends with Death Room: these are the last words recorded in an imaginary unfinished manuscript just before the disappearance of its unknown writer.

The other songs are titled: I've Been Walking, The Wizard Of Altai Mountains and I've Been Walking Part 2. They are characterized by sudden and unexpected changes in volume going from celestial soft vocals to twisted and dissonant, more distorted, riffs, all wrapped in an endless series of instruments among which the ubiquitous fiddle, that reminds us in some passage of no-man. There is also the accordion, characteristic of popular music of Eastern Europe. However the meaning and the journey that accompany the beautiful and unpredictable experience of listening to this album is much more introspective, dark and deep.

Of course, the genre had to be the most modern prog rock, stately and refined. The band from Oslo has successfully established its own level of ambitious prog, since they formed in 1996.

The album will be released by KSCOPE on March 17th, on CD, vinyl and a digibook version which will include an additional track as a bonus: The Cage. An essential purchase for those who already follow the band, but also for music lovers who want novelty and musical freshness.

Following the release of the album, the band will be on tour from April to May with dates around Europe, unfortunately without touching our country.

The beautiful cover is adorned by a version of the tree of life, an ancient and meaningful symbol.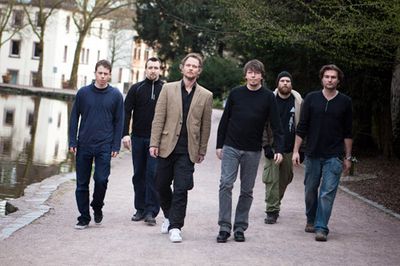 ---
Review by Evaristo Salvi
Translated by Domizia Parri
Photo credit by Jaak Geebelen
---
Gazpacho Tour 2014
Demon Tour dates for April 2014:
 4 PL, Warsaw, Progresja
 5 PL, Wroclaw, Sala Koncertowa Polskiego Radia
 6 GER, Dresden, Tante Ju
 8 GER, Bochum, Zeche
 9 GER, Osnabrück, Rosenhof
 11 NL, Uden, De Pul
 12 NL, Zoetermeer, De Boerderij
 14 UK, Leamington Spa, Assembly *
 15 UK, London, O2 Islington Academy *
 *with support from label mates Se Delan
---