---
 With "Blackfield IV" (K -Scope, 2013) the duo created by Steven Wilson and Aviv Geffen has moved the scales until finding a new balance. Wilson, very focused on his solo career, has taken another step back and kept for himself only the role of collaborator and deus ex-machina: he contributes the guitars, vocals and mixing all the tracks, as well as the vocals in the track "Jupiter"; Geffen, determined to carry on his conquest of the international scene, was involved in everything else: songwriting, keyboards and piano, arrangements, production.
In these eleven "pills " (no track on this album exceed the length of four minutes), Geffen has distilled his vision of the world: the complicated and often disappointing relationship between the sexes, the passage of time and the loss of youth, the folly of many human acts, the lack of guidance and higher ideals, as suggested by the iconic cover image, a huge satellite dish pointed towards an empty and silent sky. There are, however, more so than in previous albums, glimmers of hope and lucid impulses; Geffen seems matured as a man and as an artist, perhaps also thanks to Wilson, who undoubtedly has the ability to bring out the best from everyone who crosses his path.
Three songs on the album are handled by the voices of three guest artists: Vincent Cavanagh from Anathema ("X- Ray"), Brett Anderson of Suede ("Firefly") and Jonathan Donahue of Mercury REV ("The Only Fool Is Me"), three singers coming from a very different extraction, but perfectly in line with the eclecticism of the album, which ranges from the epic feel of "Pills" to the dubstep of "After the Rain", from the sweetness of "Springtime" to the anger of "Kissed by the Devil" . Bass, drums and additional keyboards are entrusted, as always, to Seffy Efrati, Tomer Z and Eran Mittelman; on top, we get the successful even if unusual (seen the pop-rock style of the tracks) contribution of the London Session Orchestra for strings and winds.
The album comes with a very nice booklet, created by Carl Glover for Aleph, which illustrates each song with images that deserve much more than a quick look. A curiosity: the Japanese writing displayed on the final page means "Blackfield": a signature and, in a way, a statement of intent.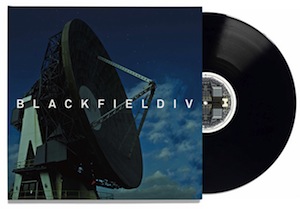 TRACKLIST:
 Pills
 Springtime
 X-Ray (feat. Vincent Cavanagh – Anathema)
 Sense of Insanity
 Firefly (feat. Brett Anderson – Suede)
 The Only Fool is Me (feat. Jonathan Donahue – Mercury Rev)
 Jupiter
 Kissed by the Devil
 Lost Souls
 Faking
 After the Rain
---
Review by Paola Macchiavello