Discografia Richard Barbieri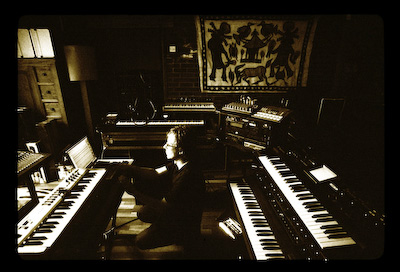 Foto by Lasse Hoile
---
Richard Barbieri inizia la sua carriera musicale nel 1976

con i Japan, con cui incide diversi album, in seguito l'incontro con David Silvian, Steve Jansen e Mick Karn, da origine a dei lavori negli anni '80 che rimangono tutt'oggi di grande interesse ed originalità. In seguito questi artisti si riuniranno sotto il nome di Rain Tree Crow ed incideranno un' album per la Virgin. Nel 1993 Richard formerà un compagnia di registrazione chiamata Medium, con la collaborazione di Karn e Jansen, con l'intento di creare musica, senza le interferenze e restrizioni delle Major. Durante un periodo di dieci anni, 13 diversi album vengono rilasciati da questa nuova etichetta ed in uno in particolare Changing Hands vede la collaborazione di Jansen e Barbieri con il DJ Takemura. Ma il 1993 è anche l'anno in cui Richard incontra i Porcupine Tree. Mentre la collaborazione con la moglie Suzanne Barbieri, porta al side-project chiamato Indigo Falls da cui nasce l'ononimo bellissimo album. Infine Things Buried le cui sonorità spaziano tra le più fantastiche psichedelie alle più moderne sonorità elettroniche è un album tutto firmato Richard Barbieri.
---
Stranger Inside
2008 Stranger Inside (CD) KScope / Snapper
---
Scritto e prodotto da Richard Barbieri, Mixato da Steve Jansen e Masterizzato da Steven Wilson. Ospiti sono Gavin Harrison Batteria ( traccia 1 e 2 ), Danny Thompson Basso acustico ( traccia 2 ), Steve Jansen arrangiamenti, percussioni e programmazione. Tim Bowness e Suzanne Barbieri Voci. Fotografia di Luigi Colasanti Antonelli, Raggi X di Jim Wehtie, grafica e Design di Carl Glover per Aleph Studio.
1. Cave
2. All Fall Down
3. Hypnotek
4. Decay
5. Abyssn
6. Byzantium
7. Morphia
8. Retina Blur
9. Stranger Inside
---
Things Buried
2005 Things Buried (CD) Intact Records
---
Scritto e prodotto da Richard Barbieri. Richard Barbieri - Synthesisers, Keyboards and Electronic Percussion, Andy Gangadeen - Acoustic and Electronic Drums (tracks 2, 3, 5 + 6), Percy Jones - Fretless Bass (tracks 3, 5, 7 + 8), Sampled Voices - Suzanne J Barbieri (track 1).
1. Nevada
2. Fear And Trembling
3. Light On Glass
4. Drops Of Mercury
5. Flaw
6. Medication Time
7. Red Square
8. Path Not Taken
---