1989 Sottotitolata " Words from a Hassian Sack" si tratta di una cassetta di 80 minuti stampata privatamente, ristampata poi dalla Delerium nel 1991 in sole 300 copie.
Tarquin's Seaweed Farm Cassetta
Cassette: Private Cassette [deleted]
UK Delerium - DELC0002 [deleted]
Solitamente la cassetta č accompagnata da un libricino di 8 pagine con le note, spiegazioni e una storiella. In questo caso il libricino č autografato da Steven Wilson.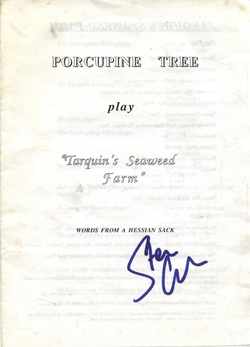 Players: Tripping Musicians Extraordinaire: The Porcupine Tree – Acoustic Guitar, Electric Guitar, Flute, Koto and Sings Sir Tarquin Underspoon – Organ, Electric Piano, Synthesisers and Sings .Mr Jelly – Bass Guitar. The Evaporating Flan – Drums, Percussion, Drum Computer and Speaks Timothy Tadpole-Jones – Acoustic Guitar, Percussion Sebastian Tweetle-Blampton III operates the delay circuits and mixing desk Solomon St. Jemain – Guitar on 'Wastecoat', Drum Computer on 'Towel' and speaks. Master Timothy Masters – Oboe, Cor Anglais Linton Samuel Dawson operates the light show.
Side A
1. Music For The Head (Here)                          
2. Jupiter Island
3. Nun's Cleavage (Left)
4. Clarinet Vignette
5. Nun's Cleavage (Right)
6. Space Transmission
7. Message From A Self-Destructing Turnip
8. Radioactive Toy
9. Towel
10. Wastecoat
11. Mute
12. Music For The Head (There)

Side B
1. No Reason To Live, No Reason To Die
2. Daughters In Excess
3. The Cross / Hole / Yellow Hedgerow Dreamscape
Credits: All tracks written by Steven Wilson except "Jupiter Island" written by Wilson/Duffy, "Clarinet Vignette" written by Wilson/Masters and "The Cross" written by Prince. Artwork by Alistair Campbell.