1990 Sottotitolata "...And the other tips for amateur golfers" Si tratta di una cassetta di 70 minuti stampata privatamente, ristampata poi nel 1991 dalla Deleriun in edizione limitata di sole 300 copie.
The Nostalgia Factory Cassetta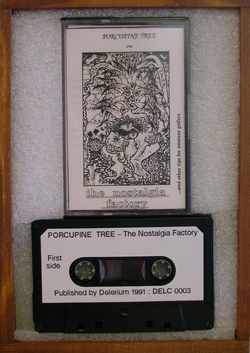 Di solito la cassetta č accompagnata da un libricino di 8 pagine con note, spiegazioni e una storiella, anche in questo caso il libricino č firmato da Steven Wilson.
Cassette: Private Cassette [deleted]
UK Delerium - DELC0003 [deleted]

Players: The Delightful People Party To The Production: The Porcupine Tree – Acoustic Guitar, Electric Guitar, Bass, Tamboura, Flute, Singing, Keyboard Instruments, Tape Processing, Programming The Expanding Flan – Drums Solomon St. Jemain – Electric Guitar, Vocalising Michael France – Prepared Tapes, Piano Alix Straighter – Laughter Alan Imaginary Duffy – Verse Butcher.
Side A
1. Hymn
2. Footprints
3. Linton Samuel Dawson
4. And The Swallows Dance Above the Sun
5. Queen Quotes Crowley
6. No Luck With Rabbits
7. Begonia Seduction Scene
8. Colours Dance Angels Kiss
9. Prayer
10. The Nostalgia Factory
Side B
1. This Long Silence
2. Sinatra Rape Scene
3. Hokey Cokey
4. Landscare
5. Delightful Suicide
6. Nine Cats
7. Split Image
8. It Will Rain for a Million Years
Credits: All tracks written by Steven Wilson except tracks A2, A3, A4, A8, A10, B1, B6 and B8 written by Wilson/Duffy. Artwork by Alistair Campbell The whole shebang was conducted and produced by JC Camillioni at No Man's Land on 16 track and at Periscope Station on 8 track. Some of the music is taken from unproduced 4 track demos which were retouched at No Man's Land. Engineer for the sessions was Sebastian Tweetle-Blampton III. The Nostalgia Factory was recorded between summer 89-winter 91.